DEATH ROAD BOLIVIA
The Death Road biking tour is simply the best option for a full day of adventure and adrenaline in one of the most impressive places in Bolivia, "El camino de la muerte" Has to be done when in La Paz!
Get our Death Road Bolivia special offer today!

BEST PRICE: Specialized Bike $us 78 – Scott Genius Bike $us 64
 (Limited time promotion only for October 2019)
Really nice tour! Pickup at your hostal in the morning. Then some snacks with coffee. And then hopping on your bike to go down! Pretty scary ofcourse, but luckily the... read more breaks were working really well 😉
Nice tour, good company

Rianne H


7/16/2019

Excellent day trip out of La Paz with Marrenka, Yamato and Ivan for the biking tour of death road. Bikes were well maintained, good level of safety from the guides... read more and some added background/history of the area whilst we went down. There was also a...More

simonjosling


5/21/2019

Had an absolute amazing day with Yomato and the gang. The road was insane with wicked views all around. Everyone on our tour, guides and tourists were lovely. Delish brekky,... read more snacks and an awesome lunch to finish off the day made this one of the...More

Rosentities


6/06/2019

We had a great time with altitude travel today! It was an amazing day!! We felt safe the entire time thanks to the amazing guides and good bikes:) A lot... read more of snacks along the way and a great lunch at the end of the trip,...More

hannaelness


3/15/2019

The whole day was great with great guides (Marinka) is awesome and so much fun to be around, try and go on a day with her!!. Alot of great info... read more and lunch was really nice.

allanh2001


3/02/2019

My boyfriend and I went on the bike tour with guides Marrenka, Yamato and Ivan the machine . It was a brilliant way to spend a day in La Paz... read more as we got to see the huge change in scenery from high up in the...More

Georgievollus


5/23/2019

Thank you so much to Americano for an unforgettable experience on Death Road. Really made my trip to Bolivia! Would recommend to anyone passing by La Paz, it's a must!... read more

Daisy H


5/25/2019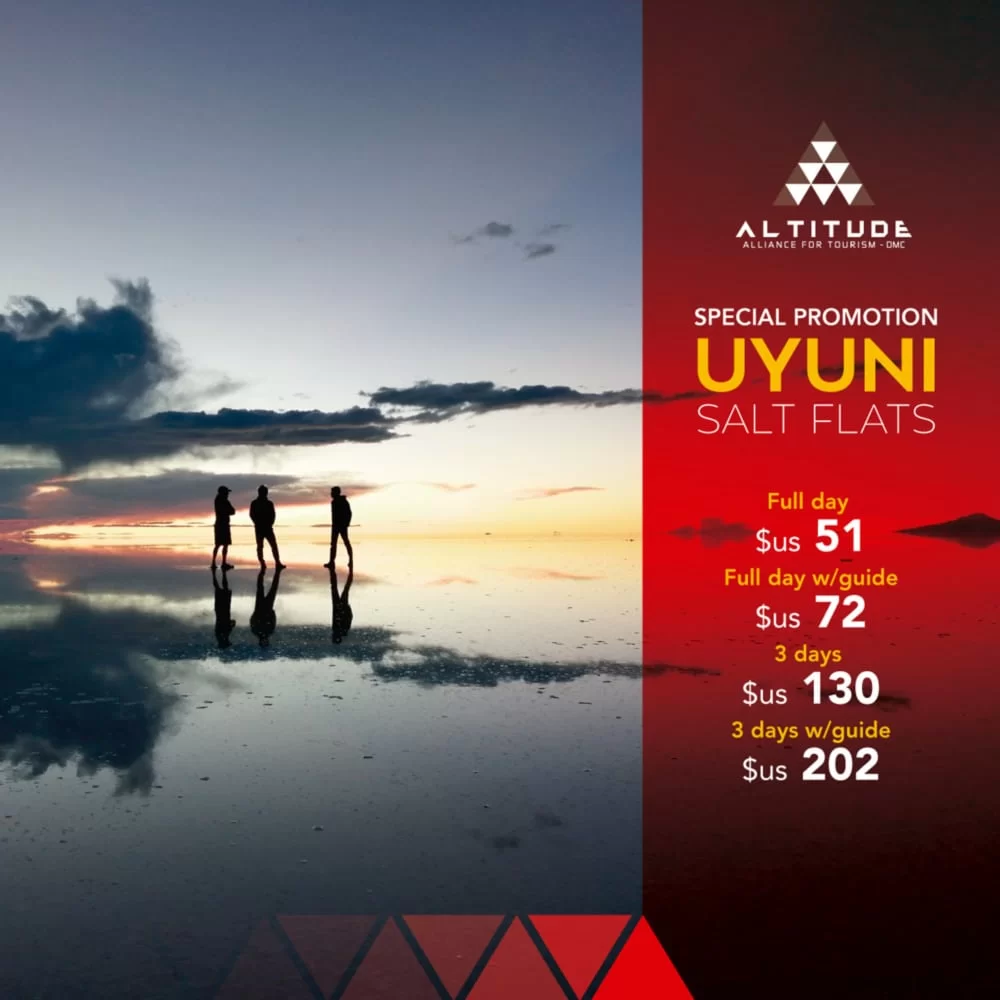 Uyuni Bolivia Salt Flats Promotion
The Uyuni Salt Flats or –Salar de Uyuni– is the highlight of any trip to Bolivia, as it represents a unique experience, impossible to equal anywhere else in the world. Get our Uyuni Bolivia Salt Flats Tour offer today!
Altitude Paintball Promotion
This is the perfect opportunity to make friends and experience an incredible adrenaline rush while in the coolest city of South America.
EVERY WEDNESDAY and private groups from 15:00 to 16:30 hrs.
Best Price: $us 25 PP.