COPACABANA - SUN ISLAND (full day)
PRICE: from $us 64
Sun Island and the Titicaca Lake is perhaps the most magical and popular destination in Bolivia.
hold a place
book and pay
The Lake Titicaca is perhaps the most magical and popular destination in Bolivia.
Better known as Sacred Lake, it is one of the most important tourist attractions in the country as well as the highest navigable lake in the world -at 3810 meters above the sea level. The waters of Titicaca preserve secrets about the cultures that settled on its shores, scenario that is complemented by the peculiarity of its lacustrine flora and fauna.
Among the secrets and pearls of the lake is the Sun Island, a destination of great natural beauty. Its terraces of crops and blue lake in the background, along with its ancient ruins and archaic traditions create a magical atmosphere incomparable to any other place in the world.
At Altitude, we have created a complete package that will allow you discover these fascinating sites and live an unforgettable experience.
Programme:
The tour begins between 7 and 7:45am in La Paz, where you will be picked up by private transportation and head to Copacabana (approximately 3 and a half hours drive). During the journey, we will border Lake Titicaca and will be able to enjoy a unique view of the Cordillera Real. Once in Copacabana, we will have a traditional lunch and then take a boat across the Lake Titicaca to reach the south end of Sun Island (about 1 hour).  Here, we will visit the Ruins of the Temple of the Sun (Pilkocaina), continue with a hike through this mystical Island to the viewpoint of Yumani perron from where we can observe the Andes Royal Range. We will finally reach the Fountain of Youth, where you may take some purifying sacred water (which is believed to provide for eternal youth) and enjoy the view of a marvelous Inca garden.
We will finally head back to Copacabana, and from there to La Paz, where we will arrive at approximately 10:30pm.
Price: $us 64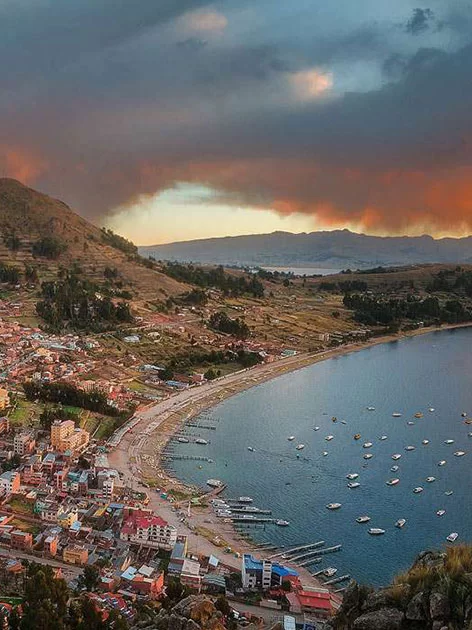 This activity includes the following:
Transportation 4×4
Skilled Driver
English-speaking Tour guide
Accommodation
Meals throughout the tour
This activity does NOT include the following:
Transport from and to La Paz (can be arranged)
Entrance fees
Transfer to San Pedro de Atacama in Chile (can be arranged)
Extras not mentioned in the Programme
We advise you to bring the following:
Warm clothing
Sunglasses
Sunscreen
Water
Camera
What are you waiting for?