HUAYNA POTOSI
PRICE: from 150 USD
3 days / 2 nights tour
With its 6088m high mountain , spectacular views, accessibility to beginner climbers and close proximity to La Paz, it's easy to see why Huayna Potosi is the most popular mountain to climb in Bolivia.
hold a place
At 6088 meters (almost 20 thousand feet) above sea level, Huayna Potosí is one of the highest mountains in Bolivia, and the most accessible mountain in the Cordillera Real.
Just 30 km from La Paz, it has become the most popular peak in the country for its imposing beauty and easy access even for beginners
Huayna Potosí is a pleasant challenge for adventure travelers, and offers an incredible opportunity to connect with nature, enjoy beautiful landscapes and observe wildlife in its habitat.
Though often referred to as the "easiset 6000er in the world", climbing Huayna Potosi is certainly no easy feat.
Considered by professionals to be a straight forward snow and ice climb, the mountain's "Normal Route" entails an exposed ridge, some crevasses, and reaches an altitude of 6088m, making it a very difficult climb for those not adequately prepared.
It is highly recommendable to spend at least 3-6 days adjusting to the altitude in La Paz prior to climbing Huayna Potosi. People attempting the climb should also be healthy and physically fit.
Whilst experience is not required to climb Huayna Potosi, underestimating the mountain by not properly aclimatising or skipping the training day when you're not an experienced climber, can not only prevent you from reaching the summit but can be life threatening.
Program:
Day 1. Hotel pick-up and transfer to the base camp in the Zongo pass, at 4700 masl, for a walk of approximately 40 minutes to reach the glacier to receive the appropriate instructions and a practice of approximately 2 and a half hours. Night in the base camp.
Day 2. Breakfast. 3-hour walk to the high camp, 5200 meters (17,000 feet) above sea level. During the day we can enjoy the monumental views of the mountains above the clouds. Early rest in the high camp to prepare for the last day of climbing.
Day 3. The day starts at 1 a.m. with an early walk through the glacier; we will reach the summit at approximately 7 a.m. From here, we can appreciate the incredible view of the Bolivian landscape: on clear days, it is possible to see the Snowcapped Sajama, the Cordillera Real and Lake Titicaca.
Return to the high camp, where we will enjoy an abundant lunch, and then continue the descent to the base camp to return to La Paz, arriving approximately at 3pm.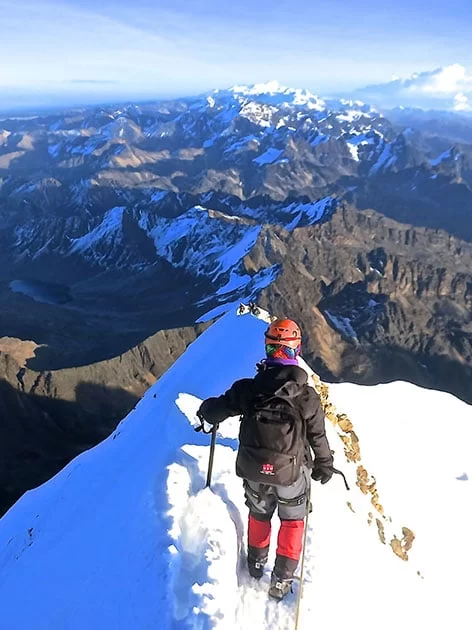 Includes:
Private tourist transport
Professional climbing guide
Full board
Climbing equipment (Jacket, pants, balaclava, gloves, crampons, ice ax, harness, boots, helmet)
Income
01 water bottle
02 nights of lodging in refuge
Does not include:
Drinks

Tips

Extras not mentioned.
What to bring:
Backpack of 55l or more
Backpack
Trekking shoes
Warm clothes / Thermal
Internal gloves
Head lamp
Sunglasses and sunscreen
Sleeping bag (can be rented)
Note:
 Travelers carry their own backpack, mattress and personal belongings (no food nor tents).
Porters are available at additional cost.
What are you waiting for?