Salar de Uyuni (3 días)
3 días / 2 noches
El Salar de Uyuni es el destino más destacado de Bolivia, ya que representa una experiencia única, imposible de igualar en ningún otro lugar del mundo.
Reservar
El Salar de Uyuni es el destino más destacado de Bolivia, ya que representa una experiencia única, imposible de igualar en ningún otro lugar del mundo. Este legendario lago prehistórico, llamado Lago Minchín, se secó hace entre 30,000 y 42,000 años, dejando atrás un deslumbrante paisaje desértico de relucientes salinas, islas de cactus gigantes y formaciones rocosas.
Situado en el suroeste de Bolivia, el Salar de Uyuni es el desierto de sal más grande del mundo. Con una altitud de 3653 metros sobre el nivel del mar, caracterizada por un clima desértico frio, el área atraviesa dos estaciones distintas: la estación seca (entre mayo y octubre) y la lluviosa (entre noviembre y abril), durante la cual el agua acumulada crea un espejo natural y un escenario extraordinariamente único.
Sin embargo, el Salar no es el solo tesoro guardado en la zona. Esta región altiplánica es también el hogar de lagunas andinas habitadas por flamencos rosados, volcanes nevados, antiguas tierras de coral, cuevas míticas utilizadas como cementerios sagrados por las civilizaciones preincaicas y géiseres activos que alcanzan una altura de 5000 metros sobre el nivel del mar.
En Altitude hemos trabajado para diseñar un paquete completo que le permita explorar y descubrir este increíble destino en total confort y seguridad. Acompañándole hasta la frontera de una belleza natural deslumbrante, estamos seguros que este tour de tres días le proporcionará una experiencia inolvidable de viaje y de vida.
Programa
Día 1
El recorrido comenzará en la ciudad de Uyuni aproximadamente a las 10am: dependiendo de sus preferencias, podemos recogerlo directamente en la terminal de autobuses o en su alojamiento en Uyuni. Comenzaremos el día visitando el Cementerio de trenes continuando hacia la comunidad indígena de Colchani para observar la elaboración de sal yodada en su forma rústica.
Luego entramos a los desiertos blancos en su plenitud, conduciendo directamente en medio del mágico Salar de Uyuni. Aquí, visitaremos los paisajes típicos de la extracción, los montones de sal; los únicos "ojitos de sal"; y el primer hotel de sal, ahora un museo. Aquí podrán disfrutar de este extraordinario paisaje, tomar imágenes de perspectiva y reflexión. El almuerzo se servirá en el corazón del Salar, ofreciéndoles así la increíble oportunidad de disfrutar de una comida tradicional inmersos en este desierto blanco. Por la tarde, realizaremos una breve caminata a través de la Isla Incahuasi*, una antigua isla de roca volcánica ubicada en medio de las Salinas y hogar de milenarios cactus gigantes. Desde aquí disfrutaremos de la increíble vista de la puesta de sol en el inmenso desierto de sal.
Por la tarde, llegaremos a Santiago de Agencha, una comunidad quechua ubicada a orillas del Salar, donde pasaremos la noche en cabañas tradicionales hechas de sal y piedra.
*Nota: la Isla Incahuasi podria no ser accessible en epoca de lluvias.
Día 2
Después del desayuno, visitaremos las cuevas de las Galaxias, una joya natural incomparable tallada por la naturaleza durante millones de años, y cementerios preincaicos que aún guardan un poder místico para las comunidades locales. A continuación visitaremos la comunidad de San Juan, mirador natural del volcán Ollagüe (aún activo).
Por la tarde, visitaremos las lagunas de Cañapa y Hedionda, hogar de poblaciones de flamencos rosados. Finalmente, entraremos en el Parque Nacional Eduardo Abaroa, donde podremos visitar el Desierto de Silioli y el Valle de las Rocas, así como el famoso "árbol de piedra", una increíble formación rocosa gigante cuya forma recuerda a un antiguo árbol fosilizado.
Finalmente visitaremos la asombrosa Laguna de Colores y los geiseres antes de llegar a nuestro alojamiento para pasar la noche.
Día 3
Este último día comienza a las 6:30am, para disfrutar del amanecer en la Reserva. Por la mañana, podremos disfrutar de un baño en las aguas termales. A seguir visitaremos las lagunas verdes y blancas, el increíble desierto de Salvador Dalí y el volcán Licancabur.
Después del almuerzo, comenzaremos nuestro regreso a Uyuni. En el camino pasaremos por los pueblos tradicionales como Villamar, Villa Alota y el pueblo minero de San Cristóbal. El recorrido terminará en Uyuni aproximadamente a las 6.30pm.
Nota: previa solicitud, podemos organizar transfers a la ciudad de San Pedro de Atacama, Chile.
MENU
Primer Día
Almuerzo Quinua con carne y ensalada
Postre: fruta de temporada
Cena Sopa de verdura, arroz con pollo y papas
Segundo Día
Desayuno Té, café, leche, huevos, pan y jugos
Almuerzo Pasta con pollo y ensalada
Postre: fruta de temporada
Cena Sopa de verduras, pasta con salsa de tomate
Tercer Día
Desayuno Té, café, leche, panqueques, yogurt and cereales
Almuerzo Arroz con ensalada, atún, jamón y queso.
NOTA: Agua y bebidas están incluidas solamente durante almuerzos y cenas; les aconsejamos llevar agua adicional para el viaje.
OPCIÓN SIN GLUTEN: arroz o quinua con verdura
HOTELES
Tambo Coquesa lays at the feet of Tunupa Volcano, on the shores of the Salt Flats.
Dining room made of salt, with view on the Salt Flats, and relaxing area with WiFi access.
Please Note: availability is subject to changes due to weather conditions; the hotel may be replaced with another one of similar category.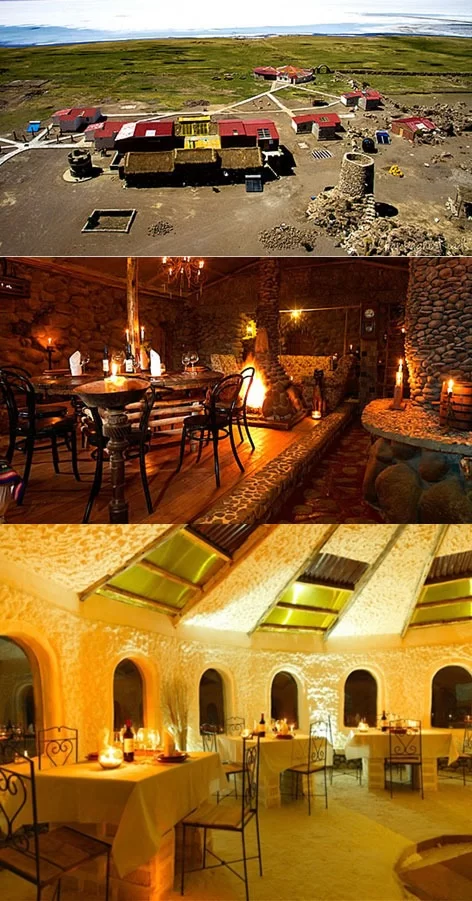 Segunda noche: Los Flamencos
Los Flamencos Eco-Lodge, ubicado a orillas de la laguna Hedionda
Restaurante con vistas a la laguna y zona de relax con WiFi.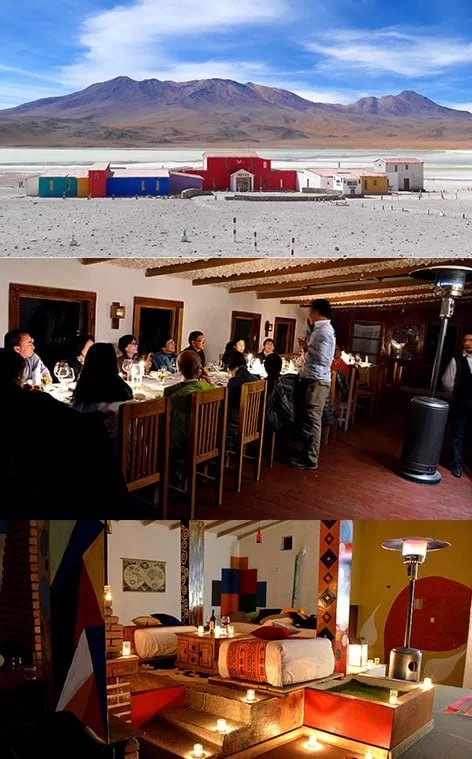 Esta actividad incluye:
Transporte en 4×4 con chofer
Acomodación 2 noches (habitaciones básicas compartidas con baños compartidos)
Alimentación durante el tour (2 desayunos, 3 almuerzos fríos, 2 cenas)
Esta actividad NO incluye:
Habitaciones privadas (costo adicional de por noche por persona)
Guía en idioma extranjero (disponible según requerimiento a costo adicional)
Transporte La Paz / Uyuni (se puede organizar según solicitud)
Entradas (Isla Incahuasi: 30bs, Reserva Eduardo Avaroa: 150bs)
Propinas y extras no mencionados en el Programa
Transfer a San Pedro de Atacama (se puede organizar previa solicitud)
Le aconsejamos llevar:
Ropa abrigada
Protector solar y gafas de sol
Agua
Cámara